Orthodox Christian Prayers – Handwritten Book (1992)
The modern Georgian manuscript of Orthodox Christian Prayers was created by Levan Chaganava in 1992.
This is one of three books mentioned as the first works of art, created in the tradition of Georgian calligraphy after a gap of two centuries.
Characteristics of the handwritten book:
The manuscript is made in the classical style of Georgian calligraphy.
The book has 64 pages. Size: 10 x 14 cm. Ink, tempera.
Leather-bound hardcover.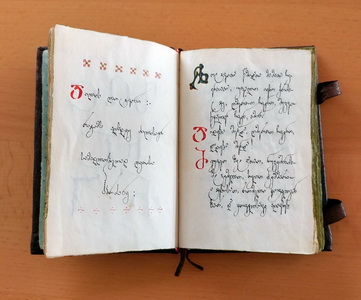 Original Manuscript
© 2023 Levan Chaganava. All rights reserved.